"The owner is great he took the time to call me to speak with me and explained everything it made me feel like they really care about their customers and potential customers."
– Ginat G.

"Service was great . Cost of the new unit was very good . I will not go anywhere else for service .. the technicians were polite courteous. And quick"
– Matt V.

"We had our furnace tuned up by Chris. Great job. Also we had a whistle in the unit and Chris found it and repaired it. Two other companies could fix it. Job well done Chris."
– Ed B.

"We were treated with prompt service and very nice technicians. They called to let us know how soon they would be on site. They cover all the stairs and floors with clean drop cloths they worn protective booties over there shoes. They were friends and professional. Angel and Juan did a awesome job ever Gowan's clean up and remove promptly. The owner Anthony called to see how everything went and thanked us for calling his. Business. We used them about ten years ago and twenty years ago. They have done seven of our friends homes and twelve family members homes we highly recommend them. The are reasonably priced with great people
– Anthony B.

"I had a leak coming from my furnace. One company told me that it was the heat exchanger and I would need to replace it (might as well get a new furnace for the cost)!!! Joey from Bloomingdale Heating & Air came out the next day and was able to confirm it was a crack in the collector box, ran all the way to Elgin to get a replacement and fixed the problem at a fraction of the cost. I will NEVER use anybody but Bloomingdale Heating and Air for my HVAC needs..they are honest, professional, local and their prices are competitive. THANK YOU!!!"

" I used Bloomingdale Heating and Air to service an existing air conditioner and ultimately replace it! Everyone I interacted with was responsive and friendly. As a new homeowner, I especially appreciated the time spent educating me on options to make sure I felt confident in my purchase. In addition to great customer service, the pricing was competitive compared to other quotes I received. I will continue to use Bloomingdale Heating and Air for future HVAC needs."
– Angela B.

"I had my ac and furnace installed last year. I was so impressed! This year my ac wasn't working right. Anthony was so kind and professional. He sent out Brett who diagnosed the problem and Joe who fixed it. He of course honored the warranty and charged me nothing. It's hard to find companies that are upstanding, especially in the HVAC industry, but Anthony is awesome. His crews are on time, and so professional. I would highly recommend using this company!"
– Tammy P.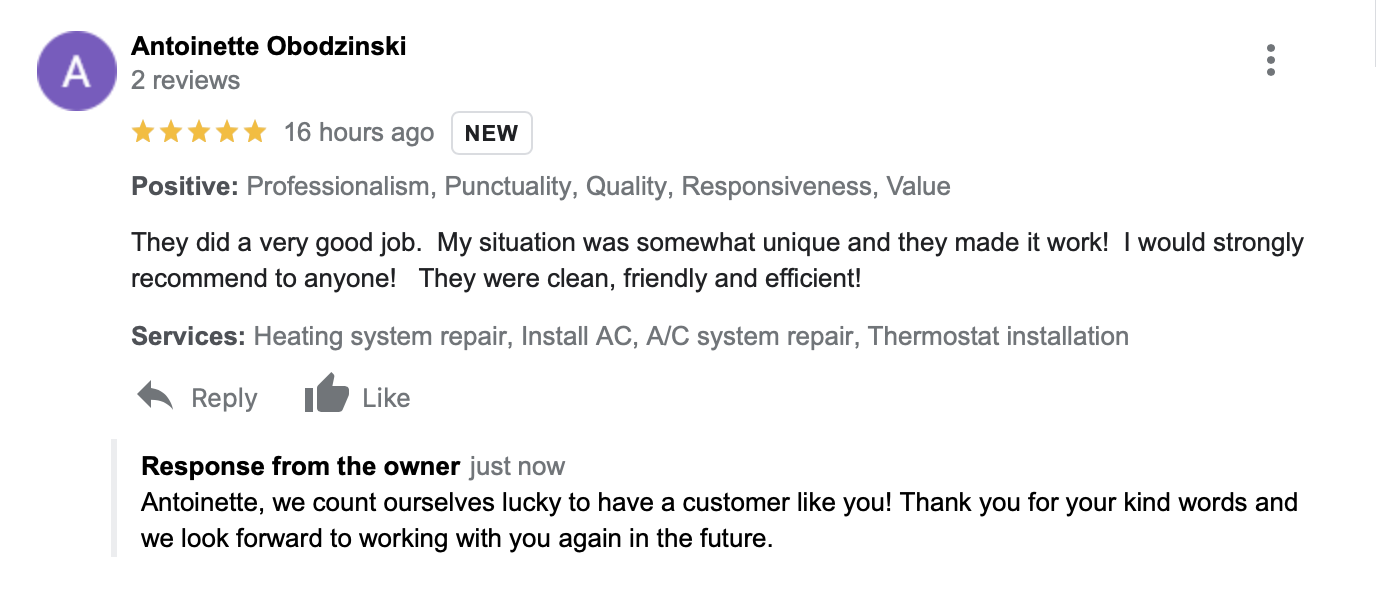 I had an issue with my furnace on a Friday and called Bloomingdale Heating and they were able to get a tech out to my house right away and get my heat fixed immediately. I called several other companies and was quoted some very steep prices for what i believed to be a routine fix. Anthony the owner was very attentive to my needs and got his team on the job right away. His staff of Amanda, Gina, and Angel were great to work with and provided me with world class service. If you are looking for a company that is not going to take advantage of you on pricing and provide great customer service look nowhere else, Bloomingdale Heating is definitely worth the call! I'll do all of my Heating and Air with them moving forward!
Bloomingdale Heating and Air Conditioning
476 Lake Street
Roselle, IL 60172
Phone:630-581-8000
Fax: 630-539-1896
Email: bloomingdalehvac@gmail.com