Commercial HVAC Service Available 24/7
Call: 630-581-8000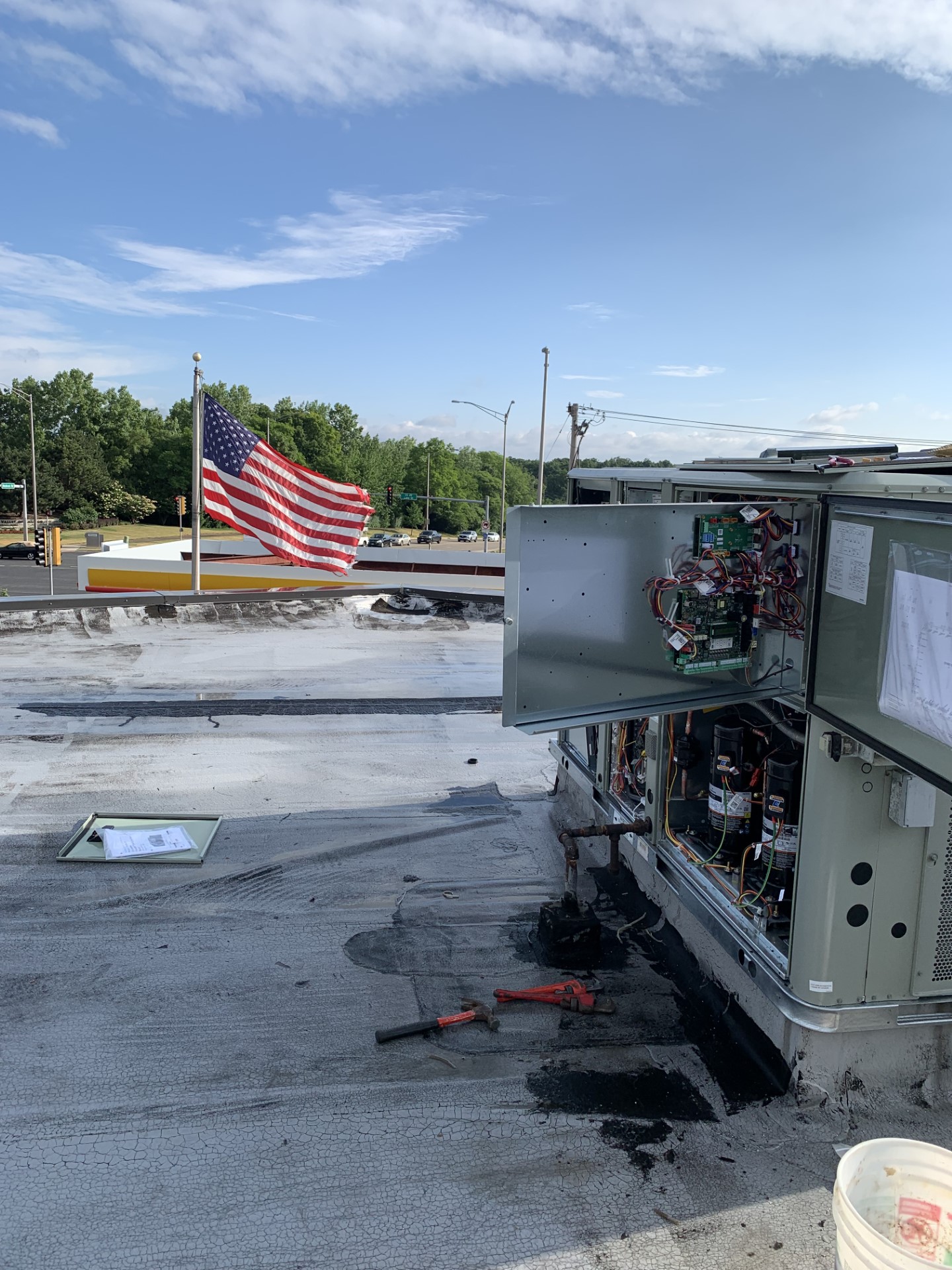 Commercial HVAC Services
Bloomingdale Heating and Cooling not only specializes in air conditioning and heating services for all residents of Bloomingdale, Illinois and the surrounding area, but also for commercial businesses as well! We bring our same great reputation we have working with homeowners to business owners in the area because we know that your business needs to operate smoothly and comfortably for your employees! We do commercial heating and air conditioning repair, commercial heating & air conditioning system replacement, and commercial heating and air conditioning inspection services for your business whenever you need us!
Be sure to view our customer reviews!
Commercial Air Conditioning Problems
During the summer months in Bloomingdale, Illinois temperatures can hit 90 degrees pretty regularly. This means that your business needs to offer air conditioning to not only your employees but also your customers. More people are going to be drawn into a business if they are looking to cool off while they are out and about on a hot day. This is where Bloomingdale HVAC can help! We can make sure that your employees are comfortable and relaxed so your business can continue to run with optimal precision. If you are looking for commercial air conditioning services call our experts today!
Learn More
Find out more about Bloomingdale Heating & Air Conditioning and how we can help you today when you call  630-581-8000 or contact us online.
Our commercial air conditioning technicians are constantly training on the latest equipment and brands. We want to ensure that we get your business back to normal as soon as possible. There are typical problems that arise when it comes to your commercial air conditioning that you can be aware of and spot before it becomes a bigger problem.
Maintenance Problems:

 

Most common on the list of problems to look out for is a lack of maintenance on your commercial air conditioning unit. Since your unit is usually on a roof or is a giant system in the area, it means that it is running more frequently and exposed to the elements more than your residential unit. Make sure that your commercial air conditioning unit is inspected regularly, or that your landlord is making sure it is, before small problems become big ones.
Clogged Filters:

 

Clogged filters and dirty filters are the number one reason why air conditioning systems break down faster than normal. Whether it is a commercial unit or a residential unit, Bloomingdale Heating and Air Conditioning reminds you to change your filters! This will increase the life expectancy of your unit and help your unit run more smoothly and efficiently.
Refrigerant Leaks:

 

When your commercial air conditioning unit takes warm air in and passes it over the coils, your refrigerant is what cools the air off and blows it inside your business. Leaking refrigerant is a more common problem in commercial air conditioning units because of elemental exposure. If air is blowing through your store but it is not cold, this might be a problem with your refrigerant. Call Bloomingdale Heating and Air Conditioning today and let us ensure that yours is not leaking.
Air Balance Problems:

 

If one office in your building is always cold, and another office is always hot, this could be a sign of improper ductwork or improper balancing in the dampers for your store or business. Call us today and we can make sure that your duct works and dampers are balanced correctly.
Thermostat Problems:

 

Lastly, it might not be the air conditioner at all. Your thermostat might be broken or may need to be replaced. Installing a commercial thermostat system can be technical and a challenge. Use a professional service to work on your commercial thermostats to make sure everything is installed and working correctly.
Commercial Heating Services
Bloomingdale Heating and Air Conditioning is your local commercial heating repair and maintenance partner. Our highly trained technicians are available 24/7 to ensure your businesses' heating system is working all winter long. If you notice any of these problems inside your retail space, office building, industrial space, or commercial warehouse call us:
Strange sounds like knocking or scratching coming through your system
Inconsistent airflow or one area of your business being colder than the rest
A rise in your normal electricity bill
Odors and smells that you never noticed before
Trust Bloomingdale HVAC to keep your business comfortable all winter long!
Emergency Heating Repair
We know that your time is valuable; and because of this, our experienced commercial HVAC technicians make sure we never keep you waiting. One of our most trusted services is our 24-hour emergency commercial heating repair. Our trucks are fully stocked with the most common parts needed, and our team of trained professionals will work tirelessly to ensure any issue you are experiencing – no matter the time of day or weather outside – is fixed in as little time as possible.
Commercial Heating Services We Provide 24/7
• New Heating System Installation
• Commerical Heating Repair
• Commerical Heating Maintenance & Inspections
• Furnace Installation & Repair
• Boiler Installation & Repair
• Heat Pumps
• Thermostats
I am extremely happy with Bloomingdale Heating & Air!!!  After battling with another company for several weeks to  get my HVAC replaced they came out the following day after I first called them to give me a quote.  I was happy with the technicians the day of installation.  They made sure I was happy with they way they removed the old and brought in the new HVAC.  I am most of all with Peter Wakely!!  He even called me back today 3 days after it was installed to make sure everything was working properly and to see if I had any questions.  I would definitely recommend them!!
Bloomingdale Heating and Air Conditioning
476 Lake Street
Roselle, IL 60172
Phone:630-581-8000
Fax: 630-539-1896
Email: bloomingdalehvac@gmail.com